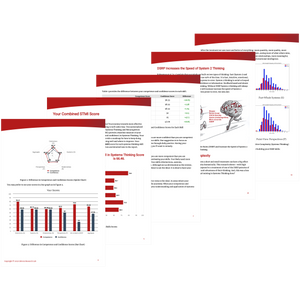 How would we know if your systems thinking? Being able to test the degree to which a person is systems thinking is a critically important tool for doing systems thinking.
Research shows that the fastest and surest way to increase success in all domains—personal and professional, emotional intelligence and analytical ability, critical thinking and problem solving—is to increase metacognition and systems thinking. CRL developed the first, reliable, personal inventory of skills in metacognition and systems thinking: the Systems Thinking Personal Inventory or STMI™. STMI measures your strengths and weaknesses in the metacognitive skills that underlie systems thinking. It provides a "Pros and Grows" Analysis of where you're strong and where you can improve on 10 dimensions. STMI can be taken before and after exposure to systems thinking to measure improvement.
Get your results online as soon as you complete the inventory! You will receive an email to your inbox with information on how to begin the assessment.